Once again, the New Garden Festival of Flight was a big success with big crowds and two thrill-packed days of exhibits and exhibitions. This P-40 was just one of many vintage war aircraft on display.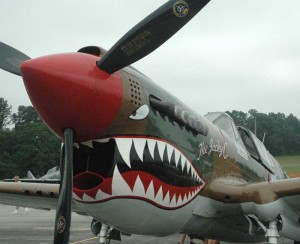 The two-day air show offered many aerial displays such as aerobatics from wing-walker Jane Wicker, stunt-flying by Matt Chapman in a CAP 580, the flight of the C-54 Spirit of Freedom, and demonstrations from the Commemorative Air Force (CAF) including those of the P-40 Warhawk and the P-51D Mustang.
"The CAF was originally formed in 1957 by two WWII bomber pilots who purchased some old planes from the war," said Stan Musick, CAF pilot of the P-51. Dedicated to the preservation of WWII-era aircraft, the CAF endeavours to acquire and maintain their aircraft in an operational state in order to provide the public with firsthand knowledge of the capabilities and the history of these vintage war planes. The largely volunteer-staffed organization has roughly 130-functional WWII aircraft from both the Allied and Axis sides.
Vintage aircraft were not the only ones to be present at the festival, however: an Air Force B-2 stealth bomber made a flyby during the festival on Saturday, providing the crowd with a look at the current generation of military airpower.
This year's festival also drew a wide variety of patrons, including some veterans. "I used to be a B-25 pilot in the South Pacific during World War II," Joseph Miller said, dressed in his original Army Air Corps uniform. The York, PA native is the owner of an L-3B Grasshopper housed at New Garden and travels "all over the country" to air shows. "I think these events are important for the general public, and especially the younger generations, to learn about the Second World War," he said.
Source: The Unionville Times