---
You can peer through a nuclear attack submarine's periscope and gaze around Camp Dodge here, even sighting in on the general's quarters.
You can push a button to make the machine guns flash on a life-size replica of a P-40 Tomahawk fighter painted with a toothy grin from World War II.
You can salute all of Iowa's war veterans, including several dozen Medal of Honor recipients as far back as the Civil War, as you walk through the Iowa Gold Star Military Museum. More than 23,000 people did so as they visited the museum in 2011.
"We think we'll break the 25,000 barrier this year," says Col. Greg Hapgood, director of public affairs and strategic communications for the Iowa National Guard. "We keep getting 1,000 or 2,000 more each year."
The museum has grown from a handful of displays in the room of a chapel in 1985 to about 38,000 square feet of exhibit and storage space. It has 328 small arms of all persuasions, from American and German to Spanish and Chinese, in the gun room; more than 6,000 books about war in the research library; and about 140,000 donated items neatly stored on hangers and shelves in the behind-the-scenes storage area.
Always a work in progress — the museum nearly doubled in size with an addition in 2009 — the latest major exhibit pays tribute to four Iowa pilots of the famed "Flying Tigers," a volunteer group that flew from Burma to defend China in the early days of World War II.
A replica of the P-40 Tomahawk suspended from the ceiling last month is painted in the color scheme of the plane flown by Bill Reed, a Marion pilot who recorded nine aerial kills with the "Flying Tigers" and later, the Army Air Force. He was killed on Dec. 19, 1944, while bailing out of his disabled aircraft over China.
Since Reed was both a hero and a victim of the war, his plane serves as a perfect symbol for the Iowa Gold Star Military Museum, says curator Michael Vogt.
Beginning in World War I, families would display a blue star at their homes to signify a member in the service. A gold star meant the family had lost someone in the service.
While Vogt, 44, didn't serve in the military, his father was in the Air Force. Vogt graduated from high school in Gladbrook and has, among photos on his office wall, one from when he was 7 sitting in a replica red, white and blue biplane made by his father for the town's annual Corn Carnival in 1976.
Vogt earned a master's degree at UNI with a thesis about Iowa in the Spanish-American War, then worked for the Historical Society of Marshall County before coming to this museum in 1999.
As the only federally recognized repository for military artifacts in the state, The Iowa Gold Star Military Museum is supported by the state (state employees and state-owned building), the military because it's at Camp Dodge and through donations to the non-profit Iowa National Guard Memorial Association.
Iowans have generously donated items through the years, each of which Vogt considers before accepting.
"I make a decision on everything that comes through the door," he says. "If it fits a niche in our collection. If it tells a good story about an Iowa veteran."
Vogt says he is amazed at the variety as he walks past hundreds of uniforms, equipment and other artifacts in the storage area.
"We get things donated to the collection that beg me to ask, 'How did this survive?' We have toilet paper with Kaiser Wilhelm's (WWI) caricature on it," Vogt says.
A collection of Reed's memorabilia, including the suitcase he carried off to war, were donated by his nephew, Ed Reed of Omaha, Neb. They're displayed behind glass to add authenticity to the P-40 Tomahawk overhead.
The life-size replica joins genuine machinery, from a Word War I German artillery piece and a World War II M3 Half-Track armored troop carrier to helicopters from the Vietnam and Desert Storm war e
Showcase Models has a huge selection of aviation collectibles like the P-40 model airplane for you to choose from. The largest selection of wooden airplane models and desk model airplanes are authentically detailed according to the original blueprints of the aircraft.
Source: http://thegazette.com
---
For the upcoming Wings Over Camarillo Air Show happening on August 18 and 19, a group of legendary fighter pilots will be honored at the Camarillo Airport. The three types of iconic aircrafts will be available for viewing at the air show – the P-47 Thunderbolt, P-51 Mustang and the P-40 Warhawk.
The 325th Fighter Group, also known as the Checkertail Clan because of the yellow-andblack checked pattern painted on the tails of their planes, will be featured at the event. The Checkertail Clan will celebrate its 67th reunion at the show. The group has one of the best Army Air Force combat records of World War II.
Wings Over Camarillo President Don Miller said the decision to recognize the Checkertail Clan is about more than aerial tricks and flybys. "It's a chance to honor the fliers and reflect on what it took to win World War II," Miller said. "It's the way it ought to be," Miller said. "As this event has grown over the last five or 10 years, it's taken on a greater importance for the residents of Camarillo."
Some of the proceeds from the Wings Over Camarillo Air Show will benefit the Experimental Aircraft Association's scholarship program for high school and college students. Proceeds also go to the Ventura County 99's, a nonprofit organization of women pilots. Miller said partnerships with different community groups are an important aspect of the Wings Over Camarillo Air Show.
Gates open at 9 a.m. on Saturday and Sunday. Flight demonstrations run from noon to 4:30 p.m. each day and feature aerobatic routines with more than 80 aircraft, including vintage planes, experimental, and World War II fighters, bombers and transports. The show will conclude with a formation flight display above the crowd. Miller expects about 10,000 people to be at the show each day.
General admission tickets for the Wings Over Camarillo Air Show are $15, and children under 12 are admitted free. For more information and tickets, visit www.WingsOverCamarillo.com
Avail your own P-40 Warhawk model airplane and discover the many diecast airplane models and beautifully hand-carved wooden plane models only where the biggest aviation collectibles are, ShowcaseModels.com.
Source: http://www.thecamarilloacorn.com
---
The annual-tradition of the Geneseo skies became another crowd-pleaser with its in-air and on-the-ground sights and sounds. The 1941 Historical Aircraft group hosted and organized last weekend's "The Greatest Show on Turf" Air Show happened last July 14-15, 2012.
The air show features the iconic aircraft from World War I, World War II, civilian aerobatic acts and current military aircraft. Featured this year is the AVRO Lancaster bomber (one of only two remaining flying in the world), the B-17 "Memphis Belle" that was used in the filming of the movie by the same name, a P-40 Warhawk  "Flying Tiger" and a FW (Focke-Wulf ) 190 German fighter from WWII. Along that same event, a 15-minute traveling Tuskegee tribute movie was also new this year, and drew crowds, plus a Tuskegee airman spoke about his experiences during Thursday night's Chamber of Commerce "After Hours" event. The American Airpower Museum (AAM), based in Farmingdale, New York, has sent a P-40 Warhawk fighter and a B-25 Mitchell bomber to the show.
Kenneth Weber, 89, a World War II veteran, flew with the 362nd Fighter Group of the 9th Air Force from 1943 to 1945 and coninues to enjoy the Geneseo skies for the airshow. World War II veteran Kenneth Weber, 89 of Wyoming County, NY visited the airfield today. Mr. Weber flew with the 362nd Fighter Group of the 9th Air Force from 1943 to 1945. Mr. Weber has been attending the Geneseo air show for over 20 years. He met Steve Socolosky of East Hartford, CT in 1991. The pair have been attending the show together ever since.
The Geneseo air show is unique since it is held on a grass airfield. This allows spectators to see the historic aircraft exactly as they would have been during WWI and WWII. Crowds were given an up-close and personal look at historic war birds on the ground, and watched them relive their glory days in the air. Spectators can also walk right up to aircraft, many of which will perform in the show throughout the day, and see, hear and smell the war birds and interact with their pilots.
Like the veteran pilots, relive your WWII memories and avail this P-40 Warhawk Flying Tiger model airplane in Showcase Models. Explore the many highly valued hand-carved wood civilian model planes and other excellent military aircraft models only in ShowcaseModels.com Get your own now!
Source: http://www.dansvilleonline.com
---
Edgar Thomas, a 72-year old Boise man and a former pilot diagnosed with Terminal Heart Disease, was granted with his wish of flying the iconic World War II Curtiss P-40 Warhawk aircraft last June 1, 2012, Friday in the Warhawk Air Museum, Nampa.
The former baggage handler turned out commercial pilot was eagerly explaining how important it was for him to make his fantasy flight – all thanks to the Boise-based Wish Granters nonprofit organization for letting him fulfill his dream of having a final flight of his favorite aircraft, the Curtiss P-40 Warhawk.
"You have no idea how happy it makes me to be able to do this,"  Thomas said to the Boise-based Wish Granters.
According to Thomas, doctors have already informed him that his heart could "give out" any time in which his wife hoped that Thomas could take a ride in a World War II aircraft to fulfill his final wish. Idaho nonprofit Wish Granters Inc., grants wishes to adults 18 and older with terminal illness in Ada and Canyon counties.
"I've always been interested in historic aviation," Thomas said kindly when he found out he would be making the flight.  He worked for Frontier Airlines for 23 years and also builds and flies model airplanes.
When ask, Thomas' favorite vintage airplane is the P-40 Warhawk. "I just like the way they're built. I like the lines, that gracefulness of the way they look while they're flight."
Be like Edgar Thomas and express your admiration with the historic aviation planes such as the Curtiss P-40 Warhawk. To make it more personalized, have your own desktop model plane and discover the many variants of model airplanes for sale only in Showcase Models.
Source: http://www.idahopress.com
---
Flight Sergeant Dennis Copping, then 24, survived the accident in June 1942 and is believed to have walked away from his wrecked P40 Kittyhawk fighter plane to find help.
But his parents received a telegram informing them their son was missing in action, and he was never seen again.
The almost perfectly preserved plane has now been found in the Western Desert by an oil worker, and has been described as a time capsule akin to Tutankhamun's tomb.
Following the remarkable discovery, his nephew William Pryor-Bennett, 62, has spoken of his family's hopes they may find the body and lay Fl Sgt Copping to rest with a proper funeral.
The defense attaché at the British embassy in Cairo is due to visit the RAF Kittyhawk in the next few weeks and has already confirmed a search of a 20 mile radius of the plane will be conducted.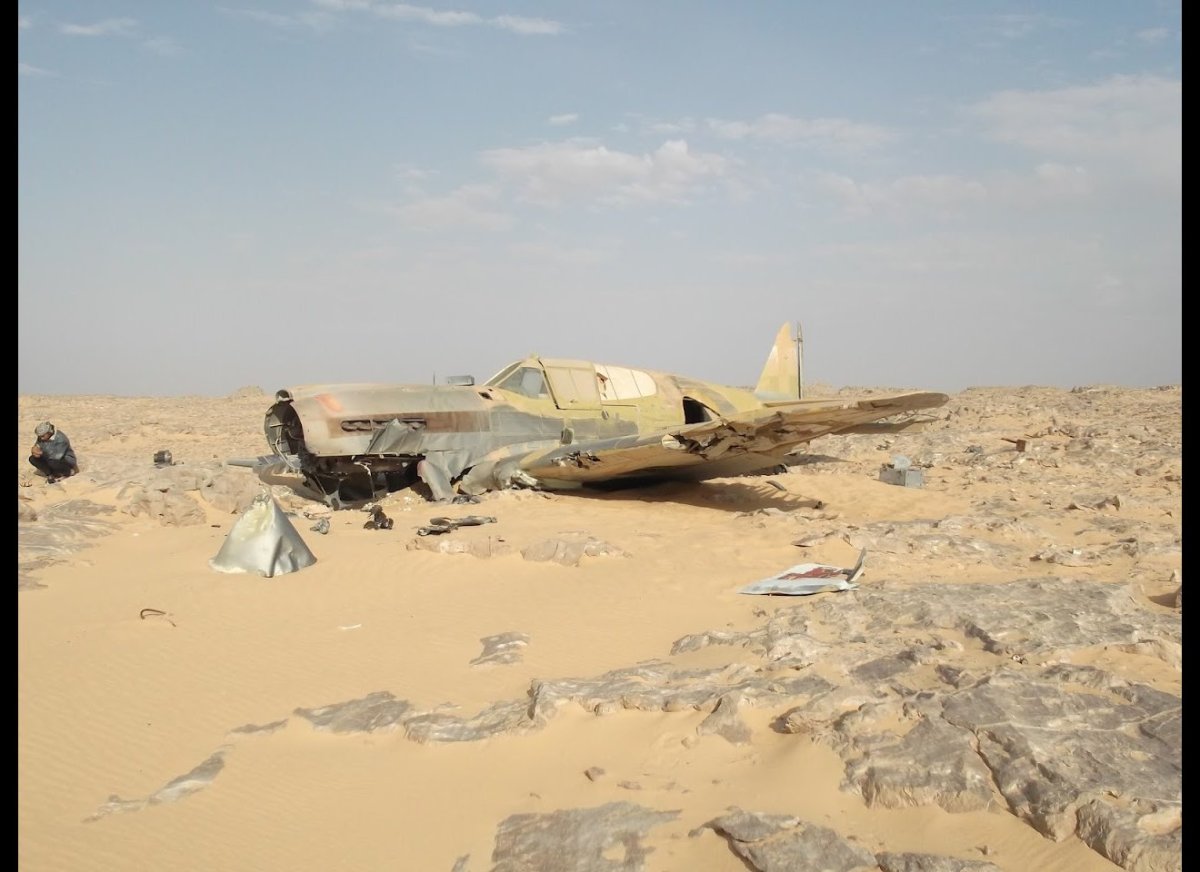 Mr Pryor-Bennett said his family had until now believed the young pilot had died in crash. Instead, the wreckage of the P-40 plane suggests he made a make-shift shelter using his parachute outside before walking away to find help.
Mr Pryor-Bennett said: "My poor old mum didn't live to find out what happened to her brother or see him come back home.
"But if there is any chance of finding him now and bringing him home so we can give him a funeral and pay our respects then I would fully support any search and say good luck to then.
"My own son, John, is willing to go over to Egypt and help with the search.
"I just hope they find him and bring him home."
Flt Sgt Copping's great-nephew, John Pryor-Bennett, 35, added: "He must have had such a horrible and lonely death so it would be wonderful if we could give him a funeral with his family around him."
Flt Sgt Copping was based with the RAF's 260 squadron during the North Africa campaign in World War Two in 1942.
On June 28, 1942 he was on a routine flight to take his damaged Kittyhawk plane from one airbase to another for repair when he lost his bearings and came down in the middle of the Western desert.
His devastated parents, Sydney and Adelaide Copping, received a telegram at their home in Southend, Essex, informing them their son was missing in action.
The family held out hope that he would one day return after the war before they accepted he had been killed in a P-40 plane crash.
Mr Pryor-Bennett, of Kinsale, County Cork, Ireland, said: "My nan, Dennis' mother, lived with my parents for the last 11 years of her life.
"She had pictures of Dennis up in her room and there was one of him on our mantlepiece.
"My mother, Edna, used to refer to him as 'my dear little brother'. My mother thought the world of him. We used to get flowers to mark his birthday.
"The family received a telegram that he was missing in action and they though Dennis had died in place crash in the desert, but it is now clear that he survived for some time.
"It had a devastating effect on my nan. I remember on one occasion she and my mum were doing the washing in a wringer and a number of planes went overhead. My nan looked up almost in hope and caught her hand in the wringer.
"When I was aged about nine, my brother and I would ask each other whether we thought uncle Dennis was still alive in the desert somewhere."
F/Sgt Copping was the youngest of five brothers and sisters: Lillian, Lionel, Gordon and Edna.
Plans are also underway to try and recover the Kittyhawk, which was found by a Polish oil company worker by chance.
The RAF Museum at Hendon, north London, is working with the defense attache to secure the aircraft and return it to the UK.
The name Kittyhawk was given to the models equivalent to the P-40D and all later variants. Gift aviation enthusiasts or pilots with quality P-40 aircraft models only from Showcase Models!
Newssource: telegraph.co.uk
---
In June 1942, RAF Flight Sergeant Dennis Copping crashed landed his P-40 Warhawk in the middle of the Sahara Desert. He took what he can from his airplane and wandered to nowhere. After 70 years, Copping's P-40 Warhawk was found almost perfectly preserved right where it crashed.
An oil worker exploring an isolated region made the discovery. The P-40 was not covered by sand, but the crash site is more than 200 miles away from the nearest town located in a featureless terrain.
The P-40 Warhawk is so well-preserved that it is like a time-capsule. Almost everything is intact. The ammunition and missiles are still with the aircraft and its identification plates remains untouched. The only thing missing is the radio and batteries, which Flight Sergeant Coupling must have taken with him and tried to make it work, but to no avail. The British Defense attache to Egypt announced that a search for the pilot's remains will be conducted, but they also expressed doubt that it will be successful.
Flight Sergeant Dennis Copping is part of a fighter unit based in Egypt during the North African campaign against the Rommel. The P-40 Warhawk is a US-made fighter aircraft. It was widely used in African and Asian campaigns during the World War II.
The RAF Museum is working to recover the aircraft and display it in honor of Flight Sergeant Copping.
Showcase Models offers museum quality P-40 Warhawk model airplanes. As a leading manufacturer of model airplanes, Showcase Models has the best quality and prices that others cannot beat.
News source: www.dailymail.co.uk
---
Known as a veteran of 3 wars, a hundred of combat missions and a pilot who flew almost all the aircraft back in wartime, Joel D. Thorvaldson is surely asked by many for him to write a book of his 64 years uninterrupted service with the military forces.
All these memories, missions and accomplishments of Thorvaldson began in Utah. He had a sister who married a pilot who became one of the first pilots for Northwest for mail delivering. He would send Thorvaldson his flying cloth helmet and during Thorvalsdson's earlier years, he would wear it to school and that was when the excitement of being a pilot started.
Thorvaldson's combat was all in use of the P-40 Warhawk aircraft. Thorvaldson described his experience with the P-40 a good and maneuverable airplane. He would make a fast pass at the enemy, break loose and come back, reverse turn with the Zeros, come over top, that is how he would get them.
Thorvaldson liked the P-40 since it was equipped with wing bomb mounts and he even used it once on a mission to bomb the Ramu valley with 265 pound bombs. Thorvaldson decorated and named the right side of his airpplane as "Mr. Five by Five" and the left side named "Punkins" – which was derived after his wife's nickname.
This P-40 aircraft built by Curtiss was originally intended for delivery to Chinese Air Force and had Nationalist Chinese markings applied in the factory but instead, it was forced into service with the 5th Air Force.
Are you a fan of the aviation warplanes? Get your own P-40 Warhawk model airplanes and see many other nostalgic jet model planes only in Warplanes.
Source: http://www.pacificwrecks.com/people/veterans/thorvaldson.htm
---
Once again, the New Garden Festival of Flight was a big success with big crowds and two thrill-packed days of exhibits and exhibitions. This P-40 was just one of many vintage war aircraft on display.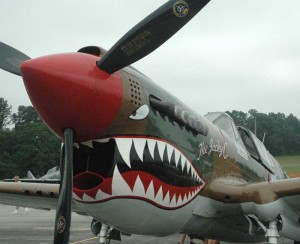 The two-day air show offered many aerial displays such as aerobatics from wing-walker Jane Wicker, stunt-flying by Matt Chapman in a CAP 580, the flight of the C-54 Spirit of Freedom, and demonstrations from the Commemorative Air Force (CAF) including those of the P-40 Warhawk and the P-51D Mustang.
"The CAF was originally formed in 1957 by two WWII bomber pilots who purchased some old planes from the war," said Stan Musick, CAF pilot of the P-51. Dedicated to the preservation of WWII-era aircraft, the CAF endeavours to acquire and maintain their aircraft in an operational state in order to provide the public with firsthand knowledge of the capabilities and the history of these vintage war planes. The largely volunteer-staffed organization has roughly 130-functional WWII aircraft from both the Allied and Axis sides.
Vintage aircraft were not the only ones to be present at the festival, however: an Air Force B-2 stealth bomber made a flyby during the festival on Saturday, providing the crowd with a look at the current generation of military airpower.
This year's festival also drew a wide variety of patrons, including some veterans. "I used to be a B-25 pilot in the South Pacific during World War II," Joseph Miller said, dressed in his original Army Air Corps uniform. The York, PA native is the owner of an L-3B Grasshopper housed at New Garden and travels "all over the country" to air shows. "I think these events are important for the general public, and especially the younger generations, to learn about the Second World War," he said.
Source: The Unionville Times
---
The P-40 fighter/bomber was the last of the famous "Hawk" line produced by Curtiss Aircraft in the 1930s and 1940s, and it shared certain design elements with its predecessors, the Hawk and Sparrowhawk. It was the third-most numerous US fighter of World War II.
The P-40N, of which 5200 were built (more than any other version.) While it was put to good use and was certainly numerous in most theaters of action in WWII, the P-40′s performance was quickly eclipsed by the newer aircraft of the time, and it was not considered one of the "great fighters" of the war.
Source: Warbird Alley, Flickr
---
Flying season begins at the Museum of Flight with rides in the Liberty Foundation's Boeing B-17 bomber and Curtiss P-40 fighter on April 30 and May 1. Both aircraft are part of the Liberty Foundation's "Salute to the Veteran's Tour."
The B-17 has arrived Monday and be on view at the Museum Ramp. The P-40 will arrive on Friday for weekend rides.
Rides on both planes will be available April 30 and May 1 hourly from 10 a.m. to 4 p.m., followed by ground tours of the planes from 4:30 to 6 p.m. Flight experiences in the bomber last about 45 minutes, with 30 minutes in the air; P-40 flights are about 20 minutes in the air.
---